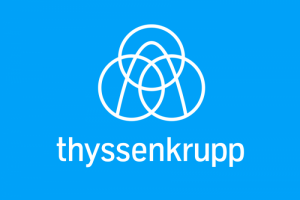 thyssenkrupp Industrial Solutions AG
Head of Market & Sales (all genders welcome)
At thyssenkrupp we have more than 161,000 employees in 79 countries and annual sales of almost €43 billion. We are active in automotive engineering, logistics, plant technology, steel production, elevator manufacturing and much more. We work in large and small businesses all around the world - but we always work together. We have over 200 years of experience in industry and the latest cutting-edge technology. We have a position that's right for you, that piques your interest, and that puts your skills to the test.
---
Head of Market & Sales (all genders welcome)
The Industrial Solutions business area of thyssenkrupp is a leading partner for the engineering, construction and service of industrial plants and systems. Based on more than 200 years of experience we supply tailored, turnkey plants and components for customers in the chemical, fertilizer, cement, mining and steel industries. As a system partner to the automotive sector we develop highly specialized solutions to meet the individual requirements of our customers. Around 16,000 employees worldwide form a global network with a technology portfolio that guarantees productivity and cost-efficiency to the highest extent possible.
The Service business unit offers high-quality services for industrial plants and systems around the world: from asset management, training, consulting, spare parts management and on-site service to upgrades and revamps. Backed by years of experience and a global network of service centers and hubs we guarantee our global customers in the chemical, cement, mining and other industries quick, tailored solutions that ensure their plants and machines deliver the best possible performance.
Your responsibilities
Responsibility for annual order intake for worldwide revamps mining business
Leading a core team of dedicated service sales engineers able to conduct inspections, able to do presentations at customers, able to demonstrate the benefits of revamping heavy-duty mining and bulk solids handling equipment
Coordinating all activities of the local and international "dedicated revamps sales engineers" leveraging from web-meetings and presence at the relevant service hubs
Establishing and following through the global project sales funnel for mining revamp projects and determination of the next steps to be taken in order to convert projects into contracts
Developing client visit & action strategy derived from installed base as well as market developments in relevant regions
Observing markets (commodity prices, regional developments, etc.) supported by the regional hubs and leveraging the gathered information for the client visit strategy as well as for driving project development of mining revamp projects around the globe
Developing new markets & opportunities in terms of customers and products
Developing the required service sales power in the service hubs in terms of quantity and quality of personnel
Developing and maintaining sales tools for mining revamp projects
Permanently interacting with all dedicated sales forces worldwide to figure out trends, exchange knowledge and best practice (from head office and also temporarily in the regions in cases required
Your profile
Successful leading of a globally acting sales or business development organization or successful profit & loss management in an industrial (B2B) service company
Deep knowledge of customized heavy-duty mining and bulk solids handling equipment for stockyard and port applications
Track record of substantial international business growth demonstrating knowledge & understanding of business culture in other countries
Experience in project business in terms of acquisition, sales and contract execution
Evidence of building a multi-national team for business success
Business Excellence: energized by the challenge of exceeding business goals but able to assess both return and risk
Entrepreneurial outlook
Change Leadership: able to engage and motivate others to be change agents internationally
Customer & Market focus: translates the customer perspective into attractive service offers (able to establish customers' business cases)
Inspirational Leadership: engages staff and colleagues to secure team commitment
Collaboration: actively seeks input including from colleagues with a different view
People & Organizational Development: actively develops own team and supports development of teams in service hubs
Inclusive: contributes to team culture beyond the current position. International with ability to appreciate and work effectively in the local culture
Ambitious and willing to invest own time to develop further
Our offer to you
We work together closely and respect each other, for over 200 years now and up till today. If that is just as important to you as it is to us, please apply online now under specification of your salary requirement and your notice period.
We value diversity and therefore welcome all applications, irrespective of gender, nationality, ethnic and social background, religion and beliefs, disability, age, or sexual orientation and identity.
---
Natalie Hendrich
Head of Sourcing & Recruiting Business Area Industrial Solutions
Tel: 0201 844 534331
veröffentlicht:
läuft aus am